How to Set Up a Montessori Environment at Home
As we move into the fall season, many of you are settling into a whole new routine of full-time schooling at home or a combination of virtual and in-classroom learning. This school year has been a major readjustment for both teachers and parents alike, as we try to create a smooth transition for our children of all ages to continue their education at home.
Notably, for students learning within a Montessori environment – which centers around hands- on, experiential learning within a "prepared environment" – making the transition to home learning has been a unique challenge.
Here are some practical ways you can create a Montessori-style learning environment within your home space, even if your child is not enrolled in a Montessori school or you have no prior knowledge of the Montessori philosophy. We hope these concepts will spark new inspiration for how you can create a more organized, engaging space for your child to learn, explore, and gain independence will learning from home.
Creating a Prepared Environment
The Montessori method focuses on learning with a sense of exploration, curiosity, and discovery, which instill a lifelong love of learning. The environment in which a child learns is a key component of the educational philosophy, established by Dr. Maria Montessori in 1907. Her concept is that "the first aim of the prepared environment is, as far as it is possible, to render the growing child independent of the adult."
The prepared environment is a specially designed space that establishes a sense of order and while encouraging exploration and independence. Within the prepared learning space, the goal is for your child to ask their teacher or parent, "Help me do it myself."
In a prepared environment:
There is order and structure. There is an implied sense of freedom for the child to move around the space and choose the activity.
It is uncluttered and aesthetically pleasing. There is a place for every item and every item has a purpose.
There is a focus on the natural world and realistic materials (such as wood and glass work materials instead of plastic).
There is a routine that supports both social interaction and intellectual development.
How to create a prepared environment at home:
If appropriate, ask your child where they want to set up their space.
Create a schedule together that works for family, including breaks and time outdoors, etc.
Gather ideas for activities and projects, and then organize your materials.
Where possible, use child-sized furniture in their work area, such as a small table and chairs.
Set up low, easily accessible shelves for their work materials and activities, near to where you set up their table and chairs. This allows your child to choose what they want to work on and easily access it with minimal assistance.

Please note: discernably sharp, small, or otherwise unsafe materials or activities should be kept on a high shelf and out of reach of smaller children. Please use your own discretion when choosing which activities are safe to keep at child level.

Create a designated space for placing/storing rugs, mats, trays or other materials they use to work. The child should be able to access these materials to pick out for work and also put away to their proper storage place when finished.

In a Montessori classroom, once a child is instructed on the correct way to complete a lesson or activity, the child is able to do that task independently. This includes taking out and putting away their floor rugs and mats and placing their trays back onto the shelf in the proper place.
Having the necessary work materials readily available allows your child to choose that activity again and again and builds confidence and independence in completing a task from start to finish.

Set up an art corner with child-sized easel or chalkboard.
Designate a cleaning corner with a child-friendly broom, dustpan and trashcan for cleaning up after themselves when they make mistakes or spill an activity.
Have a solid, child-friendly stepping stool to allow them to wash their hands on their own or help with preparing meals at the kitchen counter. Stress the importance of good hygiene and frequent handwashing before/after eating or doing other work activities.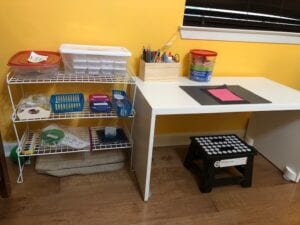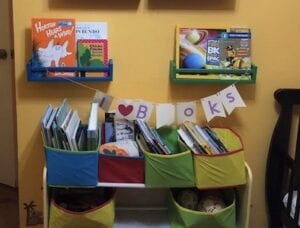 A typical Montessori classroom includes furniture and materials/utensils that are child-size to help students work with minimal assistance and allow them to self-actualize their learning. For example, Practical Life activities include child-sized utensils like tongs, spoons, trays, and rugs, and all work is done at age-specific table and chairs.
Here are a few online resources to help you set up your learning environment at home:
Practical Life in the Home
"Practical Life" skills are an important part of experiential learning in the Montessori classroom and can be easily replicated at home. Work together with your family to find new routine-based tasks that your child can learn and participate in. Practical life skills allow your child to contribute to family life, establish a daily routine, and also set a foundation for academic learning.
Practical Life skills help to:
Foster order and sequence
Develop concentration
Encourage physical independence
Develop fine motor control
Create opportunities for planning and carrying out tasks Some examples of Practical Life activities your child can do at home:
Setting the table
Watering the plants
Tidying or organizing a room
Planning a family activity or outing
Preparing a snack or meal in the kitchen
Helping with shopping lists/budgets
Planting a small garden
Taking care of pets
Schools and educators around the world have been working hard to help provide their families with resources and support during this transition to virtual learning. While this certainly is an unprecedented time, you can make progress at home if you try to implement small steps or changes in the environment you create for your student. Focus on order and structure, making materials accessible at their level, and allow for as much freedom and independence as is appropriate to develop their sense of curiosity and discovery during this time.
To learn more about how Arbor Montessori Academy and North Austin Montessori School have helped our families adjust to learning from home, please visit our websites: thearborschool.com and nams-ami.com.
We are currently offering a hybrid learning model at both of our locations. We welcome a select number of in-school students (following CDC guidelines as well as modified teacher- student ratios) and also offer a virtual learning program complete with take-home Montessori materials and live zoom classes.